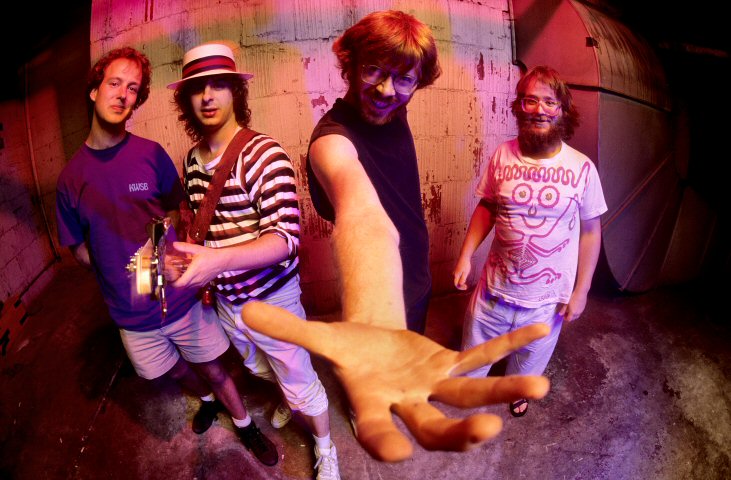 LivePhish.com Haiti Relief 2010 - A Live Phish Download to benefit Haiti Earthquake Efforts - Partners In Health and American Red Cross.
Set 1: Maze, Fee -> Foam, Glide, Split Open and Melt, Mound, The Divided Sky, Esther, Axilla, The Horse > Silent in the Morning, Run Like an Antelope
Set 2: Mike's Song > I Am Hydrogen > Weekapaug Groove, Bouncing Around the Room, It's Ice, I Walk the Line, Tweezer -> Big Black Furry Creature from Mars -> Tweezer, Big Ball Jam, Poor Heart, Fast Enough for You, Llama, Hold Your Head Up > Lengthwise > Hold Your Head Up, Cavern
Encore: Bold As Love
Notes:
Opening show of the band's Fall Tour. Before the show, they appeared on a radio interview with Mike Luoma on WIZN where they talked about the impending release of the new album "Rift" and joked about burying a pair of tickets in the (cold) ground of Burlington CIty Hall Park.
Maze began with an introduction by Mike Luoma from WIZN FM - an alumnus of St. Michael's College
The Divided Sky contained an extended instrumental play on Those Were The Days (The All In The Family Theme by Adams and Strouse)
First Axilla, I Walk The Line (Johnny Cash cover), Big Ball Jam, Fast Enough For You and Lengthwise
Run Like An Antelope contained teases of Those Were The Days and The Lizards as well as "All Fall Down" language
Tuneup before Mike's Song included an Owner Of A Lonely Heart tease
Weekapaug Groove contained teases of Those Were The Days, a vocal jam and some lyrics believed to be from Ninja Custodian's The Price Of Love
Big Black Furry Creature From Mars was performed as an instrumental with lyrics and music from I Walk The Line and Ring Of Fire
Trey dedicated Big Ball Jam to Monitor Engineer and Ball Coordinator Pete Schall and explained the Jam after it happened.
Poor Heart, Fast Enough For You and Llama were performed with Gordon Stone on pedal steel
First Bold As Love since 4/18/90 Denver, CO (~256 shows)
Help support the Haiti Relief efforts and purchase at
LivePhish.com
Personal Thoughts:
My first reaction upon listening this morning in the middle of a lake effect snow band was a how something about this show sounded like Phish
3.0. Then somewhere during the bridge section in Mound and one-tenth of a mile driving visibility it hit me. The vibe. The band sounds excited, playful and joyous. It's a characteristic in their music I never fully appreciated about the earlier days, and I don't believe I would have had that not been so well represented in their music in 2009. Anyway, this whole show smokes from start to finish. Do Haiti a favor, donate 10 bucks and receive this show for fre
e.