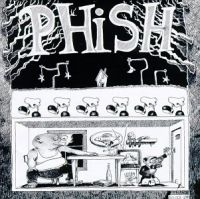 I always enjoy reading peoples first impressions of Phish
If all of the tracks on 'Junta' measured up to the success and quality of 'You Enjoy Myself' or 'The Divided Sky,' I would not be surprised if this became one of my favourite albums. However, there is a bit too much here that ranges from being boring or silly to plainly unlistenable. The first disc is actually quite solid, and has all of 'Junta's high points. It's the second disc however, that really drags the album down. With the possible exception of 'Fluff's Travels' and even fleeting moments of the twenty three minute improvised jam 'Union Federal,' disc two works out to be a maladjusted mess. The troubles start coming into full view with 'Contact,' a song which explains to the uneducated listener, the definition of 'tires' and what they can be used for. Don't get me wrong, I understand fully that these guys are trying to be funny, but it gets a bit ridiculous when that's the only sort of lyric you opt to write. The worst part is saved for the very last, where they take an excerpt from a particularly dazed live performance and tack in on. While the sound quality is understandably poor, the music and performance is practically unlistenable. Going from being virtuoso jazz-influenced musicians on tracks like 'You Enjoy Myself' to incessantly snickering in between verses and screaming incomprehensibly into the microphone leads me to the conclusion that they were under the influence of narcotics while performing. They must have also been under the influence when they decided to include those on their studio debut as well.

I can draw alot of comparisons between this and Porcupine Tree's debut, which came out around the same time. There are flashes of brilliance, but they are bogged down by alot of tracks that don't need to be listened to more than once to realize they aren't worth the time. However, despite my harsh criticisms, this debut has in fact suceeded in the sense that I am now intrigued by this band and their vast potential for making great music. As a result, I will be keeping a look out for other albums in their discography.